Description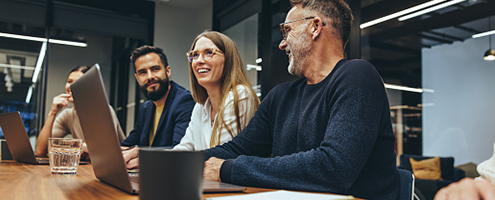 Effective and professional communication skills are essential to success in today's workplace. Learn the tools for effective verbal and written communication that will enable you to communicate with clarity and impact. Gain the skills required to effectively manage conflict and navigate difficult conversations and develop mindful listening and communication techniques. By increasing your professional communication skills, you minimize the potential for misunderstandings and ambiguities and increase your ability to inspire through clear and focused communication strategies.
If you're interested in improving your communication skills, mitigating conflict, and creating better relationships, this four-week online course is for you. The Workplace Communication Skills micro-credential will provide strategies to make you more effective and challenging conversations more productive. Whether you are an employee or a manager, honing your communication skills will influence your career and your success at work.
Workplace Communication Skills can be used as a pathway to the Certificate in Professional Communication at Royal Roads University.
Learning Objectives
Explore how to craft your conversations for maximum impact
Develop an action plan for influencing and communicating with impact
Develop strategies to work through challenging and difficult conversations
Enhance your skills for resolving tough issues
Increase your awareness of your strengths and opportunities for development
Design effective and memorable presentations utilizing a variety of media
Delivery Format
This program is delivered online in a blended format using Moodle (Learning Management System) and video-conferencing tools (e.g. Zoom). Participants will attend virtual, facilitated sessions (webinars) and complete self-directed activities, assignments and readings throughout each week.
Synchronous Sessions: Participants will attend a weekly synchronous session. Dates & times to be announced.
How to Register
Register in any of the courses within the micro-credential and you will automatically be registered in the micro-credential.
Contact us
Professional & Continuing Studies: Certificate Inquiry
Our advisors are also here by email to answer your questions and provide you with the information you need, including:
Certificate and course details
Campus and student services