Description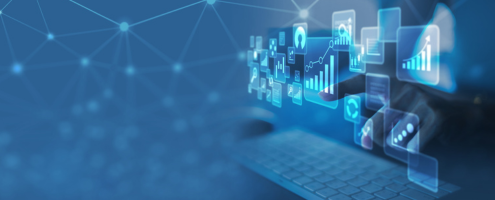 The significant digital trends and disruptions we are experiencing today, that are shaping our world today, continue to transform industries, business models, the way we live and interact and the career choices we make. Artificial Intelligence and Machine Learning, the Internet of Things, Blockchain, Cloud Computing, Augmented Reality and Virtual Reality, Cybersecurity Challenges and e-commerce and digital payments are influencing our ability to approach and solve business problems using digital tools and technologies.
Managers and leaders require transferable skills that will aid them to lead projects and teams in the future, however uncertain. Increasing organizational complexity and ambiguity requires clear, and people-focused, leadership. Stand-alone projects are no longer viewed as separate to operations, they are connected to organizational outcomes and strategic planning initiatives.
Learning Objectives
Enhance digital fluency and gain a better understanding of digital technologies, tools, and platforms

Learn new project management skills related to project planning, scope definition, resource allocation, risk management, budgeting, and time management.
Align project goals with organizational objectives, identify digital opportunities, conduct market research, and define a clear roadmap for digital transformation.

Learn data visualization tools and techniques and how to collect, analyze, and interpret data to make informed decisions.

Develop an increased awareness of the dynamics of change leadership

Obtain relevant, directly-applicable tools, techniques and resources to help you develop and implement your change strategy back in your workplace

Create a mindset of continuous learning to stay current with the latest digital trends, emerging technologies, and industry practices.
Course Overview
Leading Projects in a Digital Environment requires adaptability and a willingness to embrace new technologies and ways of working. Students will explore innovative approaches to project leadership and change management and increase their own resilience and adaptability to ever-changing conditions within digital environments. This micro-credential, delivered completely online, aims to equip learners with the confidence, creativity, and capability to lead projects, themselves, and teams and enhance their contribution to an organization and strengthening the capability and capacity within it. By implementing the leading practices offered in this program, students will enhance their chances of successfully navigating digital projects and delivering valuable outcomes.
Delivery Format
This program is delivered online in a blended format using Moodle (Learning Management System) and video-conferencing tools (e.g. Zoom). Participants will attend virtual, facilitated sessions (webinars) and complete self-directed activities, assignments and readings throughout each week.
Contact us
Professional & Continuing Studies: Micro-credential Inquiry
Our advisors are also here by email to answer your questions and provide you with the information you need, including:
Certificate and course details

Campus and student services