Professional & Continuing Studies
How to Pay
Payment Methods:
Notes:
All program fees are in Canadian dollars.
The preferred method of payment is credit card.
If you choose to pay with the "Other Methods" option on checkout, please allow sufficient processing time; payments must be received prior to the course/program start date.
This is the fastest and preferred method of payment. Visa, Visa-Debit and MasterCard are accepted.
You can pay for courses at time of registration by credit card or, if you have requested an invoice at time of checkout, you can pay the invoice from the Student Portal at any time.
Payment at Checkout
You can pay for courses immediately by adding them to your cart and clicking the 'Checkout' button. Then follow the prompts to pay by credit card.
Invoice Payment
You can pay outstanding invoices by credit card after checkout is complete:
Log onto your Student Portal
Go to My Invoices. This menu option is only available if an invoice is pending payment on your account.
Check the boxes to the left of the Date column to select invoices to pay
Click on the Pay Selected Invoices blue button to proceed
click on the Continue to Payment blue button to proceed
Review and agree to the PCS terms, conditions, and associated policies by selecting the associated box
Click on the Continue Checkout blue button to proceed
Enter your credit card information and click on Submit Payment
A receipt will be sent to the preferred email address on file.
International Payment: PayMyTuition
PayMyTuition Instructions
Follow the simple steps below to complete your payment:
Go to: PayMyTuition Royal Roads University International Payment Portal
Payment Information: Select the country you are paying from and enter the payment amount
Payment Option: Review the payment options provided and select your preferred payment method. Payment options include bank transfers, debit/credit cards in your home currency, electronic and eWallet payments and other local options
Payer Information: Enter payer information (Self or Someone Else).
Student Information: Create your account and enter basic information including your student number (this number starts with an 'X' and is on your invoice).This information will be included with your payment to Royal Roads University for easy identification.
Make your Payment: Make your payment by following the instructions provided to send your funds to Paymytuition by MTFX via your selected payment method.
Track & Confirm: Track your payment by logging into PayMyTuition Dashboard at any time. Receive SMS texts, email status updates, and confirmations of when your payment will be delivered.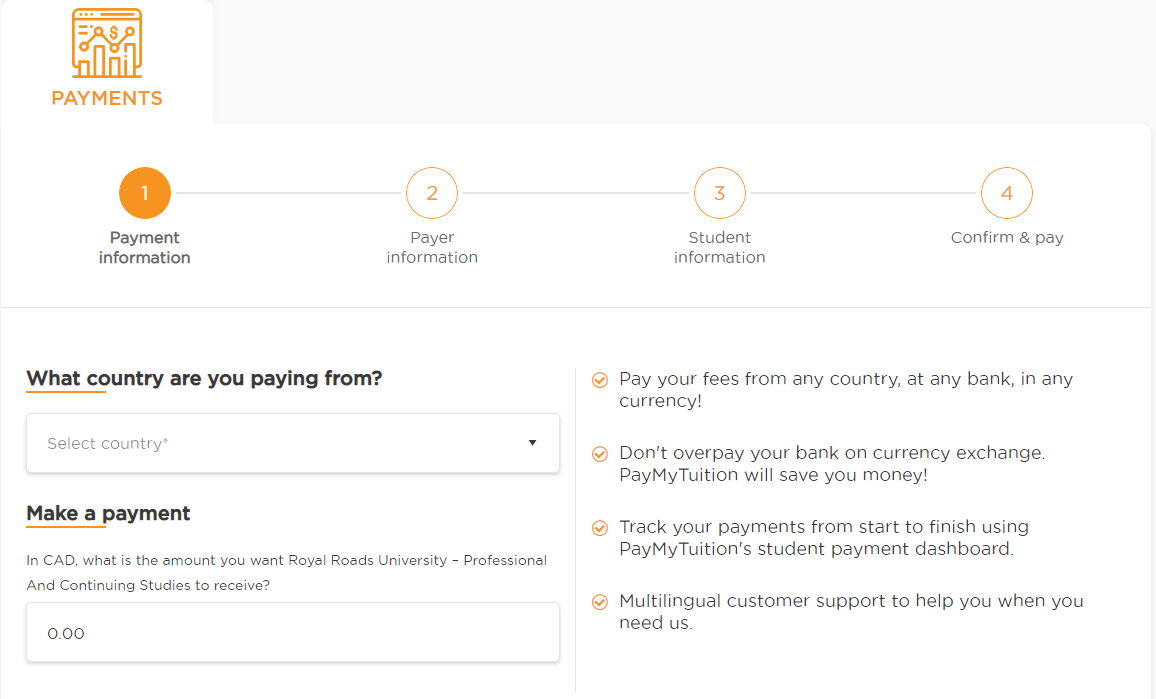 If you have a credit on your PCS account, you can use it to pay for courses in your cart.
Go to your Shopping Cart
Select the blue Checkout button
Any available credit on account will appear under Select a Payment Method


Select Use $X.XX credit from account (toggle button will turn green)


Review and agree to the PCS Terms, conditions, and associated policies by selecting the box.
Select blue Continue Checkout button

If available credit covers only part of the invoice, you will prompted for an additional payment method to cover balance.
A receipt will be emailed to the address we have on file.
Payment by cheque or cash
Royal Roads University accepts personal and business cheques.
Cash payments are limited to a maximum of $500 and must be made in person.
Cheques from Canadian bank accounts can be mailed to Royal Roads University or dropped off in person. Please reference the invoice number(s) on the cheque.
Mailing and drop off address:
Royal Roads University Professional and Continuing Studies, Boathouse Building 2005 Sooke Road Victoria, BC V9B 5Y2
Contact us
Contact us if you have any other questions about your financial account or require support making payments.
Required fields are indicated by .